Now that the shopping season is over, you might be getting emails from stores to leave reviews for the products you bought.  Reviews are part of what should be a virtuous circle – consumers need information about a pending purchase, read reviews, select and buy the product, and leave reviews for the next person.  I certainly use them when making purchases and I suspect you do as well.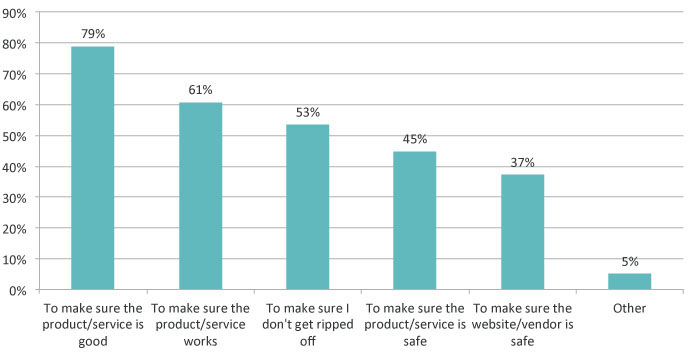 We're not alone.  According to a YouGov study:
The majority of Americans rely on online reviews. 78% check out the review section before making a purchase and nearly half of Americans (44%) are active contributors, actively writing reviews if only occasionally. Americans rely heavily on online review ratings and comments despite believing that many ratings are untrustworthy.
Huh?  We think reviews are bogus and use them anyway?  Apparently so.
Overall 87% of Americans who read any online reviews find reviewer star ratings important, and 34% find them very important as an aid to decision making. Slightly more Americans find the written reviews to be important (90%) with 41% finding them very important. The main reasons given for using reviews are to ensure the product or service is of good quality (79%), that it works (61%) and to make sure that the purchaser doesn't get ripped off (53%).
It's easy to think that the only folks that leave reviews are those who wish to complain and that positive reviews should be taken with a grain of salt since it may be the company itself writing it.  Not so.
American reviewers generally write positive (74%) or neutral (32%) reviews, motivated to help others make better purchasing decisions (62%), or because they think it is polite to leave feedback (35%). Around a quarter want to share positive experiences (27%) and to help good vendors get business (25%). Only 12% are trying to expose poor vendors.
So what's the business point?  Of all the forms of "content marketing" a brand might be considering, the review space is not one in which we want to play:
90%, believe that some people review products and services without trying them and many believe that businesses manipulate reviews
89% believe that businesses write negative reviews of competitors.
91% believe businesses write their own positive reviews (36% believe that this happens often).
Only 13% believe online reviews are very trustworthy.
In other words, not only are the risks of being caught pretty high due to consumers' natural suspicions but the value of the content is minimized both by the volume of other reviews and reviews seem to be only one of a multitude of sources from which consumers derive research.  Word of mouth and recommendations from informed friends are pretty important too.  Much better might be to monitor all reviews and respond to those which are off the mark in terms of product features, etc. as a comment and not a review.  It shows you care.
You do, right?